TNC "CM" & Titanium Needle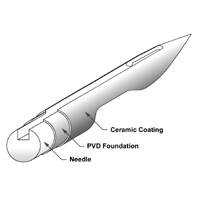 Product ID: 02
The TNC CM needle combine the "PVD" high Tech and Ceramic coating technology in the needle surface, so the TNC CM needle are not only have a very good attrition resistance but also have a very low friction coefficient.
The study show that the TNC CM needle have better performance than conventional needle in all kind of sewing process.
Features:
The advantages of the "CM" needle:

20-30% needle-heat reduction.
20% less melting point in synthetic fabric sewing.
Lower adhesion of melt residues on the needle.
Lower penetration force.
3 times longer life of the needle tip.
Prevent static electricity.
Less skipped stitches and thread breakage.