"New Publication - DLC Diamond Like Films Needle"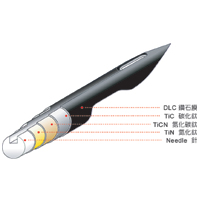 Product ID: 03
Follow the promotion of "CM" ceramic needle two years age, through 2 years' continuous
R&D, TNC finally develop the latest "DLC" diamond like films needle. The plating film is
made by carbon (Graphite or Hydrocarbon), and use more advanced physical vapor
deposition to deposit on the surface of the base material and forming an thin film layer.
In addition to its supreme hardness, "DLC" diamond like film has excellent performance in
insulation, cooling, acid and alkali resistance, chemical inactive, light penetration,
biocompatibility, smooth and wear resistance. Because of its diverse excellences, it creates
revolutionary performance upon the application of industrial sewing needle; in particular, its
friction coefficient is smaller than 0.2, which is much better than other plating films.
Charts on the right are the comparison of "DLC" diamond like films needle and other needles.
Features:
"Practical Advantages"

Needle point has supreme wear resistance - Surface hardness of diamond like films
needle is 6 times larger than general needles, and 2 times larger than titanium plated
needle and ceramic needle, therefore, under normal application, its life is 5 times longer
than general needles.