TNC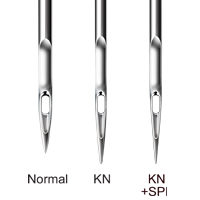 Product ID: 04
The TNC "KN" needles with special needle blade are special design for lower
penetration force and higher fabric protection in very densely knitwears sewing.
Features:
Longer and thinner needle tip - lower penetration force.
One size less in the needle blade - heating reduction and lower possibility in fabric damage.
Extra light ball point - protect the fabric.
KN+SPI - for extra fine woven material.
The TNC "KN" needle with "CM" ceramic coating in the needle tip will bring you two times longer life and 15% heating reduction.